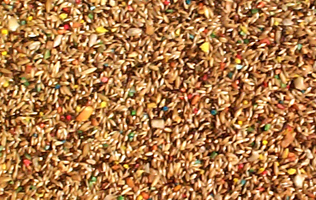 -A fortified & complete diet for all Canaries.
-Abba seed contains the higest quality ingredients and the right proportions of vitamins & minerals.
*We feed our Canaries Abba 1700- Canary Diet...and highly recommend Abba Canary Diet to our customers!
Suggested Use: A complete diet for all Canaries.
Contains: Canary grass seed, rape seed, oat groats, shelled sunflower seed, flax seed, sesame seed, kibbled grain biscuit, nuts, egg shell, whole eggs, nuts, veggies, and fruits.
ABBA SEED IS MADE IN U.S.A. WITH PRIDE !!!
Priced per pound