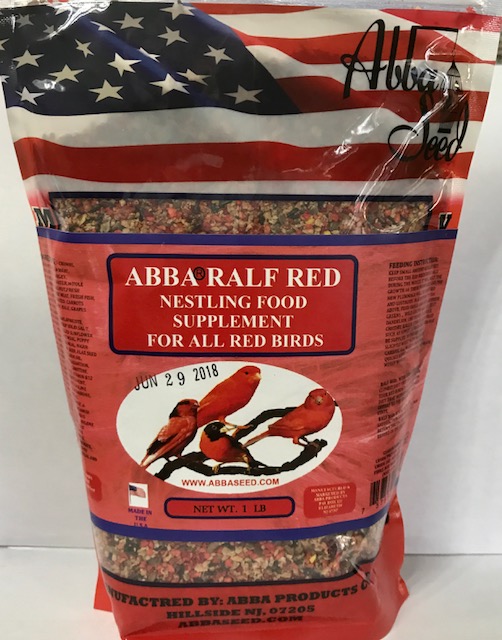 -A Nestling Food / Color Food for all Red Canaries.
-Abba seed contains the highest quality ingredients and the right proportions of vitamins & minerals.
Provide a small amount of Ralf Red (see Treat Cups) daily especially during moult.

Ralf Red aids in reducing the stress and duration of the moult.

Ensures healthy, lustrous new plumage growth.
Suggested Use: For all Red Canaries. Use daily during moult. Can be provided as a treat when bird is not in moult. Can be served dry or moistened.
Guaranteed Analysis: Crude Protein: not less than 15%, Crude Fat: Not less than 5%, Crude Fiber: not more than 5%, Moisture (max.) 10%, Ash (max.): 6%
ABBA SEED IS MADE IN U.S.A. WITH PRIDE !!!
For red birds only. Great protein blend for keeping your bird's red vibrant. 1 lb. bag Ingredients; Crumbs Made With Meals: Wheat, Corn, Oats, Soya, Barley, Beans, Millet, Rice, Water, Whole Eggs, Shredded Coconut,Fresh Meat, Fresh Poultry Meat, Fresh Fish; Fresh and Dehydrated: Carrots, dandelion, chicory, kale, grapes, bananas, apples, oranges, pears, apricots, milk, honey, corn syrup solid, Salt, Brewers Yeast, shelled sunflower meal, shelled peanut meal, poppy seed, kelp meal, bone meal, niger seed, non-viable hemp seed, flax seed, cod liver oil, wheat germ oil, Dextrose, casein, canthaxanthin, chlorophyll, red beta carotene, vitamin A Supplement, Vitamin D3 Supplemment, Vitamin B12 supplement, bitartrate, folic acid, menadione, sodium bisulfite complex, pyriodoxine, hydrochloride, d-biotin, ascorbic acid, manganese sulfate, zinc, sulfate ferrous sulfate, copper sulfate, ethylene, diamine dihdriode, cobalt sulfate, magesium sulfate, potassium iodide, Vitamin E supplement, calcium carbonate, Calcium Priopionate, Added to preserve freshness, artificial and natural color and flavor.