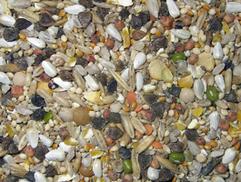 A World of Birds Custom Blend!

-Contains a complete array of seeds and veggies specially formulated for Lovebirds

Created from the finest & freshest ingredients. Custom blended to meet our specifications.

Suggested Use: For Lovebirds. Also can be fed to Cockatiels and Parrotlets.

All of our seed mixes are FRESH. New stock arrives EVERY WEEK.

Sold by the pound.