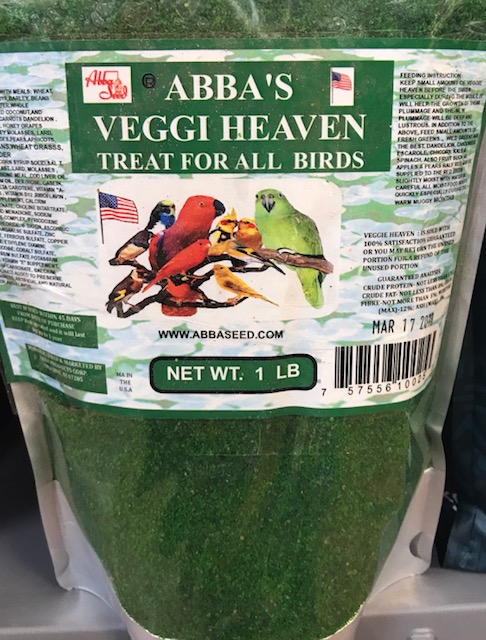 A blend of veggies ground to a soft fine food.
Available in a 1 lb. bag

Ingredients: Crumbs, Made With Meals: Wheat, Corn, Oats, Soya, Barley, Beans, Millet, Rice, Water, Whole Eggs, Shredded Coconut, and Dehydrated: Carrots, Dandelion, Chicory, Kale, Honey Grapes, Bananas, Honey Molasses, Lard, Beet Powder, Apples, Oranges, Pears, Apricots, Green Beans, Milk, Honey, Corn Syrup Solid, Salt, Brewers Yeast, Lard, Molasses, Kelp Meal, Bone Meal, Cod Liver Oil, Wheat Germ Oil, Dextrose, Casein, Yellow Beta Carotene, Vitamin "A-, Vitamin D3, Vitamin B12, Riboflavin, Niacin Supplement, Calcium, Pantothenate, Choline Bitartrate, Folic Acid, Menadione, Sodium Bisulfite Complex, Pyriodioxine Hydrochloride, d- Biotin, Ascorbic Acid, Manganese Sulfate, Zinc Sulfate, Ferrous Sulfate, Copper Sulfate, Ethylene Diamine, Dihydriodlbe, Cobalt Sulfate, Magnesium Sulfate, Potassium Iodide, Vitamin "E" Supplement, Calcium Carbonate, Calcium Propionate added to preserve freshness, articial and natural flavors.