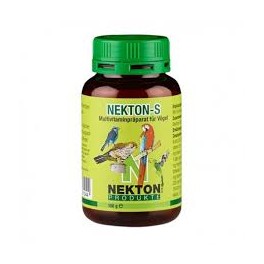 Nekton-S vitamins have been formulated to cover the vitamin requirements of cage birds.
Nekton S contains 13 vitamins, 18 amino acids in L-Form and numerous minerals and trace elements.
Nekton S is a powder vitamin which can be added to drinking water or sprinkled over soft foods.
A measuring spoon holding is included with each jar.
We use Nekton-S vitamins for our Canaries, Finches, Parakeets, Lovebirds and other Small Birds