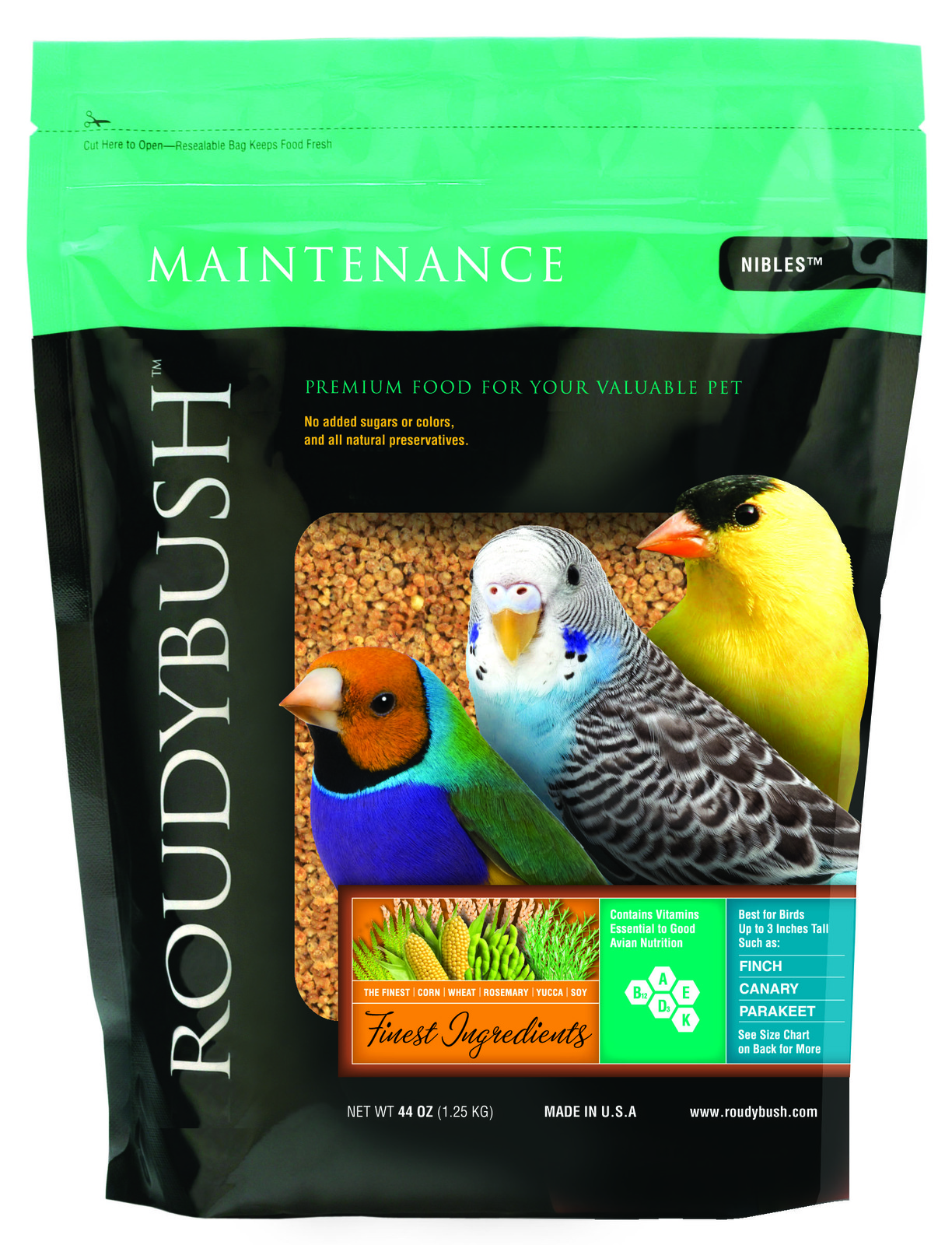 Using Roudybush products assures that your birds recieve the finest blend of nutrients available in a completely edible, waste free product. No added sugars or color. All natural preservatives.
Available in a resealable 22 oz. bag
You may use any pellet size that your bird prefers. Suggestions are listed below.
Nibles; The smallest size available. For birds up to 3" tall, such as Finches, Canaries and Parakeets
Crumbles and Minis; For birds between 3-6" tall, such as Cockatiels, Lovebirds, English Budgies, small Conures, Parrotlets and Grass Keets.
Ingredients: Ground Corn, Ground Wheat, Soy Meal, Soy Oil, Calcium Carbonate, Dicalcium Phosphate, Salt, DL-Methionine, L-Arginine, Niacin, Mixed Tocopherols, Rosemary Extract, Ascorbic Acid, Citric Acid, Lecithin, Silicon Dioxide (carrier for liquid antioxidants), Alpha Tocopherol Acetate (source of Vitamin E), Ascorbic Acid, Manganese Sulfate, Yucca shidigeraExtract, Hydrated Sodium Calcium Aluminosilicate, Dried Yeast, Biotin, Calcium Pantothenate, Zinc Oxide, Riboflavin, Pyridoxine Hydrochloride, Vitamin A Acetate, Thiamine Mononitrate, Menadione Sodium Bisulfite Complex (Vitamin K), Ethylenediamine Dihydroiodide, Vitamin D3 Supplement, Folic Acid, Cyanocobalamin (source of Vitamin B12), Sodium Selenite (on Calcium Carbonate), Propionic Acid, Ammonium Hydroxide, Acetic Acid, Sorbic Acid, Tartaric Acid, and Natural Apple Flavoring.