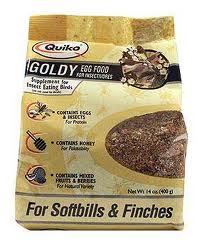 Supplemental egg food for all insect eathing birds. Contains insects, eggs, shrimp, honey and mixed fruits and berries. Can be served dry or moist.
Available in a 14 oz.bag
Ingredients Egg Biscuit (Whole Egg, Wheat Flour, Sugar), Honey, Raisins, Peanuts, Mountain Ash Berries, Elder Berries, Dehydrated Ant Eggs, Dehydrated Prawns, Dehydrated Shrimps, and Dehydrated Insects (Waterflies).