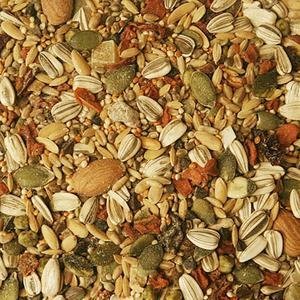 A custom mix of bird seeds just for the Eclectus parrots.
Available in a four pound size bag.

NOTE: Due to unavailability of light gray stripe sunflower seeds currently, sunflower may be dark gray instead of light gray.
Guaranteed Analysis: Crude Protein 14.50%; Crude Fat 9.40%; Crude Fiber 8.50%
Ingredients: California Grey Sunflower, Hemp Seed, Paddy Rice, White Proso Millet, White Pumpkin Seed, Cantaloupe Seed, Wheat, Oat Groats, Carrot Dices, Red Proso Millet, Buckwheat, Fruit Medley, Trail Mix, Shelled Almonds, Peppers, Sesame Seed, Green Peas, Apple Granules, Coconut Flakes, Red Bell Pepper Dices, Papaya. Now available in a 4 pound bag.