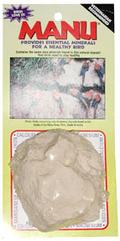 Contains the 9 essential minerals (Calcium, Iron, Maganese, Potassium, Zinc, Copper, Magnesium, Phosphorus, & Sodium) that are found in the mineral-rich clay that in the wild birds flock to.
Manu mineral blocks provide the right amount of minerals to stay healthy.
Mineral supplements are recommended by the Association of Avian Veterinarians.
>Original Natural: Cockatiels to Macaws.