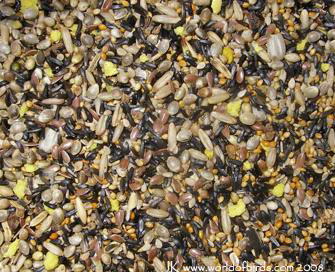 Song Food Treat for Canaries & Finches. Can be given as a treat daily. 1.25lb Jar.
CRUDE PROTEIN – NOT LESS THAN 15%; CRUDE FAT – NOT LESS THAN 5%; CRUDE FIBRE – NOT MORE THAN 12%; MOISTURE (MAX) – 14%; ASH (MAX) – 6%
Ingredients: Thistle Seed, Canary Grass Seed, Millet Seed, Rape Seed, Oat Groats, Flax Seed, Sesame Seed, Shelled Sunflower Seed Chips, Cracked Corn, Peanut Hearts, Lettuce Seed, Anise Seed, Kibbled Biscuits Made With Wheat Meal, Corn Meal, Soy Bean Meal, Bean Meal, Water, Shredded Coconut, Whole Eggs, Bone Meal, Fresh Beef Meat, Fresh Poultry Meat, Fresh and Dehydrated: Carrots, Dandelions, Chicory, Kales, Grapes, Bananas, Apples, Oranges, Pears, Apricots, Fresh Fish, Milk, Honey, Corn Syrup Solid, Casein, Salt, Brewers Yeast, Yellow Beta Carotene, Cod Liver Oil, Wheat Germ Oil, Dextrose Vitamin Supplement, Vitamin D3 Supplement, Vitamin B12 Supplement, Riboflavin Supplement, Niacin Supplement, Calcium Pantothenate, Choline Bitartrate, Folic Acid, Menadione Sodium Bisulfite, Ascorbic Acid, Manganese Sulfate, Zinc Sulfate, Ferrous Sulfate, Copper Sulfate, Ethylene Diamine Supplement, Calcium Carbonate and Calcium Propionate Added To Preserve Freshness, Artificial and Natural Color and Flavor.