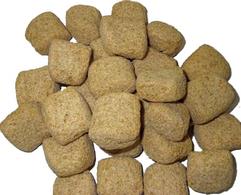 - Monkey Biscuits are used as a comfort nurturing food for young babies.
- Use between feedings to introduce babies to solid food while they are still being syringe fed.
- Birds will continue to enjoy these even after they've been weaned.
Suggested Use:

- Soak in hot water for approximately 10 minutes, then squeeze the water out and feed by hand.
- Any moist foods served to your bird should not be left in the cage for longer than an hour.
- Appropriate for both baby birds and weaned birds.
PLEASE NOTE THAT ZUPREEM HAS CHANGED THE SIZE OF THE BISCUITS THEY ARE NOW PRODUCING. THE NEW BISCUITS ARE SMALLER THAN THE ORIGINAL BLEND.

Sold by the pound.